The year 2023 witnessed an exceptional event for trade between Canada and Florida. The Canada-Florida Chamber of Commerce trade mission, which took place in September, was a unique opportunity to strengthen economic relations between these two dynamic regions. During the mission, participants were able to discover new opportunities, establish partnerships and explore promising business horizons. In this article, we take a closer look at the benefits of this event.
Exploring new opportunities
At the heart of this mission was the exploration of business opportunities between Canada and Florida. Participants had the opportunity to dive into key sectors such as Health Tech, Smart Cities, Cross-Border Tax implications, Cross-border banking as well as the information, finance and insurance sector. These sectors play a crucial role in trade between the two regions, paving the way for fruitful collaboration.
It turns out that over 2.8 million Canadians visited Florida in 2022, and 95,000 Canadians now live in Florida. These figures attest to the importance of the cultural and economic ties between these two destinations.
An event made possible by key partnerships and collaborations
The trade mission was made possible by strong partnerships with leading organizations. Desjardins Entreprises, as lead partner, played an essential role in making this major event a reality. Support from Select Florida, Air Canada, Exeo Attorneys, Porter O'Brien, USF World and Research Park. Thanks also to Raymond Chabot Grant Thornton, who was also invaluable to the mission's success.
All participants benefited from informative conferences, high-level discussions and networking meetings that strengthened ties between Canadian and Floridian companies. These partnerships and collaborations paved the way for promising new trade and investment opportunities.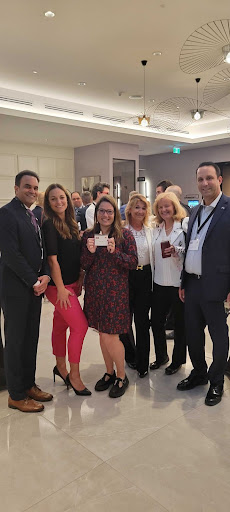 The economic impact of this trade mission is significant. Canada accounts for over 15% of all foreign direct investment (FDI) jobs in Florida. More than 300 Canadian companies operate in Florida, making Canada the second-largest contributor of FDI jobs. More than 54,000 jobs are supported by Canadian investment in Florida, illustrating the importance of this economic relationship for both regions.
In summary, the September 2023 trade mission was an important event that strengthened economic ties, opened up new opportunities and fostered collaboration between companies in both regions. As trade relations continue to grow, it's clear that Canada and Florida have a bright future as leading business partners.
That's why our president, Éric P. Tremblay, made the following comments:
"This delegation has been a real catalyst for continued business opportunities between Canada and Florida. It also strengthened the foundations of a rich business history. What particularly stood out during this mission was the unlimited potential and willingness that still exists today, especially in the field of advanced technologies. Together, we are shaping a flourishing future for business relations between the two regions. I invite you to continue working hand in hand to reach new heights and realize our shared vision. I thank you and look forward to seeing what we can achieve together in the months ahead."
Following the success of this event, we have decided to plan another trade mission, which will take place next February. We're still in the planning stages, but we're already proud to announce that there will be Canadians in Florida. This initiative aims to further strengthen our ties while opening up promising new opportunities and prospects. The Canada – Florida Chamber of Commerce is determined to make this mission an even greater success.
If you'd like to see all the photos from this trade mission, visit our Linkedin page.